I have been working on trying to build my first antenna, and have gathered a few things together to get started and wanted opinions/feedback from those of you who have 'done this kind of thing before'.
For the 'mast' of the antenna, I have found a swimming pool telescopic pole over 17ft tall.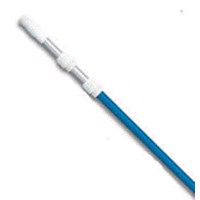 I am going to secure/stabilize it by placing it into a umbrella stand and putting the base of the swimming pool pole into it.
For the antenna, I am using old TV rabbit ears antennas to make a 2m dipole.
So here is what I have figured so far:
Calculating for 145.130Mhz:
A half wave antenna should be a total of 38.64 inches wide with each of the legs 19.32 inches.
I fasten my TV antennas to a board and make sure there is not more than 38.64 between the two tips with some insulation in between them and solder a connection from the coax shielding to one side and from the center wire to the other one.
Mount to the top of my mast, and stabilize with some guy wires. Still have to figure out the grounding for it...
I plan on taking it to someone with an SWR meter first before attaching it to my radio, but I wanted to get input first.
What say ye?
Jason Petorak
K7JLP
ARRL Member
since 2013
Valley Radio Club
Member since 2012
------
Blog:
Amateur Radio, K7JLP
Gear:
Wouxun KG-UVD1P Dual Band Tranciever

Baofeng UV-5R Tranciever

Tram 1185 Amateur Dual-Band Magnet Antenna

'K7ELI- Special' jPole (2m/70cm)

Thanks Eli!